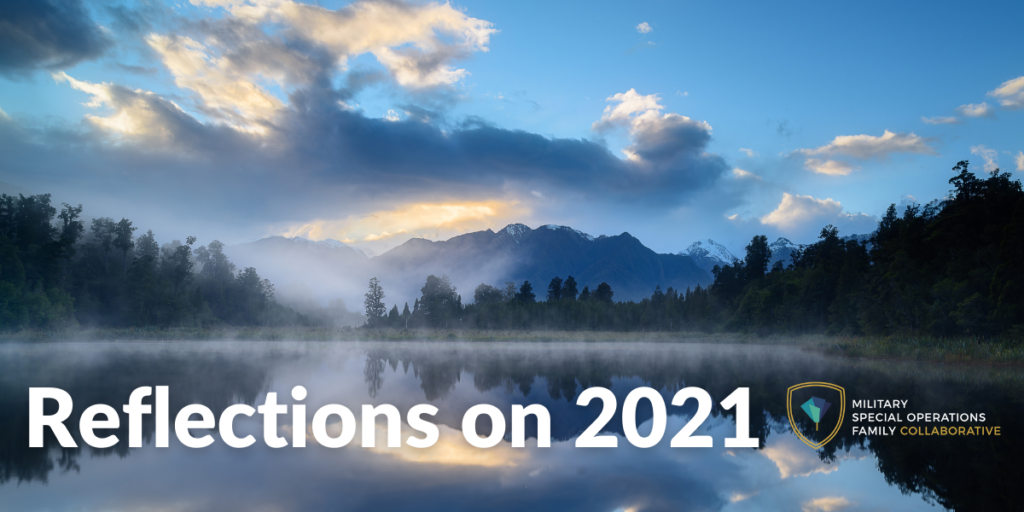 Special Operations Health in 2021 (& Teasers for 2022!)
MSOF's Top 5 Achievements of 2021
The final days of 2021 are here, so it's time to take a quick look back reflecting on this year's achievements in special operations health and well-being. The Military Special Operations Family Collaborative is just wrapping up its third year as a nonprofit public health initiative for the special ops community. We are an organization founded and run by special operations families and service members… And just like at home, it's easy to get "swept-up" in the mission and avoid reflection. This article lays out the hard work of our incredible teams, and provides a quick glance at what is to come in 2022.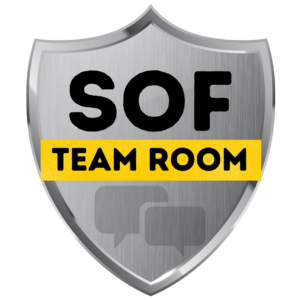 #1  Launched the SOF Team Room for Special Operations Health:
MSOF Co-hosted the virtual event with the Global SOF Foundation. The event featured a candid discussion with 2 former SOF senior leaders and 6 health sprints. Event Night Stats: 150 attendees & 500+ Vimeo plays; launched medical survey with 12 partnering organizations.
—> Glimpse Ahead to 2022: The SOF Team Room will return with candid conversations and essential resources for SOF service members, veterans, and families. The next Team Room is set for Feb. 16, 2022 from 7-9 pm EST. Register Now or email our Team if you would like to help Power the SOF Team Room. Stay tuned for more details.
#2 Established SOF Pillar at Home Base's Center of Excellence for Service Member, Veteran, and Family Health:
In April 2021, we proudly announced the SOF Health Pillar dedicated to healing the invisible wounds for Veterans of all eras, Service Members, Military Families and Families of the Fallen through world-class clinical care, wellness, education and research. Together, we will work to care, support, innovate for, and engage the SOF community with trusted, evidence-based care and resources that meet the different engagement and treatment needs of the special operations community.
—> Glimpse Ahead to 2022: Our teams and those at Home Base are working to collaboratively roll-out video and printable resources for the whole SOF community (service members, veterans, and families), leaders, and healthcare professionals and providers. Through this partnership, we will continue to partner for events and training that highlight the unique clinical needs of SOF, the different military readiness considerations, and the gaps and barriers that hinder those seeking health and care.
#3 Conducted USASOC Senior Leader Workshop: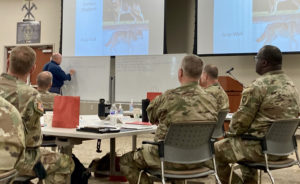 In June 2021, we were proud to host a 2-day Leadership Workshop to highlight the unique gaps and barriers that impact SOF health, performance, and legacy. In a dynamic training with partners we highlighted the knowledge, skill, and communication gaps that impact special operations health, training, performance, leadership, & transition. Training Stats: 55 senior leaders & 16 hours of training with 6 partners on SOF force and family health & performance challenges.
—> Glimpse Ahead to 2022: The MSOF team will continue to offer this training to special operations leaders at all levels. Our workshops include participating partners and up-to-date clinical and SOF grassroots insights. Training can be customized to meet the specific health, performance, and legacy needs and time constraints of requesting units or organizations. All MSOF training is evidence based and specific to special operations. It is not a "typical training."
#4 Created SOF-Specific Programs and Resources:
In 2021 our teams worked to create a portfolio of special operations specific education and training options (Family Wellness Workshops; Veteran and Service Member Resource Directory, and more). Special Operations do not need "special" health or care, but SOF is a unique military subpopulation that often needs "different" health information or care. The special operations lifestyle is characterized by high, persistent stress and this fact alone changes how the special operations community lives and interprets, accesses, and engages with health and care.
—> Glimpse Ahead to 2022: Our dynamic teams will continue to roll out health education and resources that are designed for the special operations community and those who serve them. New resources to look out for include new family engagement efforts, health resources, and podcasts. Additionally, our Family Dinner Team, The Cast Iron Crew, in partnership with The Family Dinner Project will publish a Family Dinner Book. We expect the book to be available for purchase by mid-to late 2022. The Cast Iron Crew is also excited to launch a podcast for SOF families later in 2022. Stay tuned for updates!
#5 Established SOF-Specific Health and Performance Advisory Network:
Beginning early in 2021, our team sought to establish a special operations-wide network of organizations and influencers to share key insights and work together to better understand and identify gaps in understanding and care impacting the SOF community. In 2021 MSOF began this effort with about 20 key organizations & influencers. Together we met to unpack and understand the issues impacting the health and care of the community and partnered on efforts to overcome systemic barriers to a strong SOF legacy. These boards shaped the SOF Team Room virtual event, resource directory, and training workshops.
—> Glimpse Ahead to 2022: Our Advisory Boards were so impactful that we are expanding them in 2022! The SOF Service Member and Veteran Health Advisory Board, SOF Family Health Advisory Board, and Key Advisory Committee will expand to 10-12 members each this year. Each effort will expand on the topics and efforts covered in 2021 and begin more actionable steps to engage the SOF community, get trusted & effective resources to those who need them and be a voice for ethical, evidence, based care that is recognized by policy makers and institutions that play a critical role in caring for the SOF community. If you are interested in serving in an active advisory role, keep an eye out for the application in January 2022.
Our Mission is the SOF Legacy
We work to add certainty to the special operations journey through our work to collaboratively understand the needs and gaps in care from day 1 in special operations and into life and family life post-service. Our teams are energized by the often under-recognized but essential "back-end" work to overcome systemic challenges and barriers to health, care, performance, and ultimately the legacy of our special operations community.
With pride we close out 2021, and with excitement and determination we turn our sights to our plans and the challenges 2022 will bring.
Scroll To Top
Skip to content