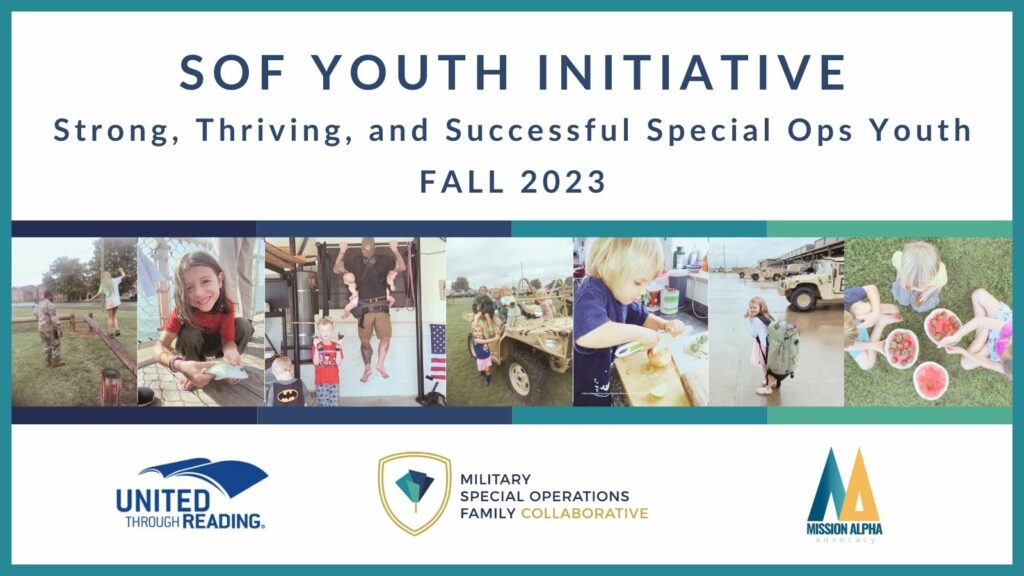 SOF Youth Campaign Fall 2023
MSOFC exists because the special operations lifestyle is unique. Service members in special operations units are all specially selected for their units. They are specially trained to accomplish their special or unconventional military mission to support our national defense. This is obvious. Most people see a serious, expert, intense service member ready to deploy in service, fully aware of the risk and threat. The average eye doesn't see the cumulative stress the service member takes on month after month and year after year – in the name of service.
Intensity & Uncertainty in Special Ops
Life as a special operations service member can't be understood by the normal stressors that get thrown in the "military-life" bucket – one month away training, gaining a special skill, or one, two, or even five deployments. Service in special operations becomes a way of life that impacts the whole family unit – service member, spouse, and child/ren. The SOF family learns how to process and navigate the extreme time spent apart year after year. Our families are diverse, but we share many common habits. And these habits form unique experiences and perspectives of our SOF kids and youth.
Our family lifestyle is unique, and those "quirks" may seem small or curious at times, but the truth is they have a huge impact on our community needs and how our community approaches, interprets and uses resources and support. For the last few years, MSOFC has received many requests for information and resources to support the health and success of special ops kids and youth (especially teens). Our families see their kids have a different military experience than most military kids. When the family language of a deployment shifts to calling a deployment a "work trip," you know your military service is unique.
Our Collaborative SOF Youth Initiative
MSOFC knows our kids and teens have a uniquely intense military experience. With a collaboration of partner organizations, MSOFC is proud to host a SOF Youth Initiative. Our collaborative initiative will:
Distribute health information, books, and other resources to SOF kids.
Launch a collaborative survey effort to understand exceptional family needs.
Host creative competitions highlighting the unique experience and perspectives of our kids.
Highlight special products, associated discounts, and opportunities.
Share SOF youth and program information and findings.
This campaign, which will run through the end of this year (culminating in an event at Fort Liberty in November, is just the start of our efforts to unpack and understand the unique needs of our special operations youth.
3 Actions to Support SOF Youth
Don't miss out on this opportunity to support SOF kids. Here are 3 actions you can take to support special ops kids now:
1. Sign-up for our SOF Youth Campaign (link)
MSOFC will send SOF Youth Initiative information and updates directly to your email. Sign-up for Special Operation Youth-specific information and updates.
2. Complete this SOF Exceptional Family Needs survey (link)
MSOFC is conducting a simple, anonymous survey to understand better the needs of our special operations families with exceptional needs.
3. Share your thoughts, ideas, and feedback (link)
No one knows our youth's challenges, strengths, and needs more than our families. Share your thoughts and help us create a supportive community for the kids at the tip of our nation's spear.
Join our collaborative campaign for SOF Youth. Bring your ideas, talents, and heart for our youth to the "MSOFC table" and help us create an initiative designed to support our amazing SOF kids and youth uniquely. They are our future.
Scroll To Top
Skip to content