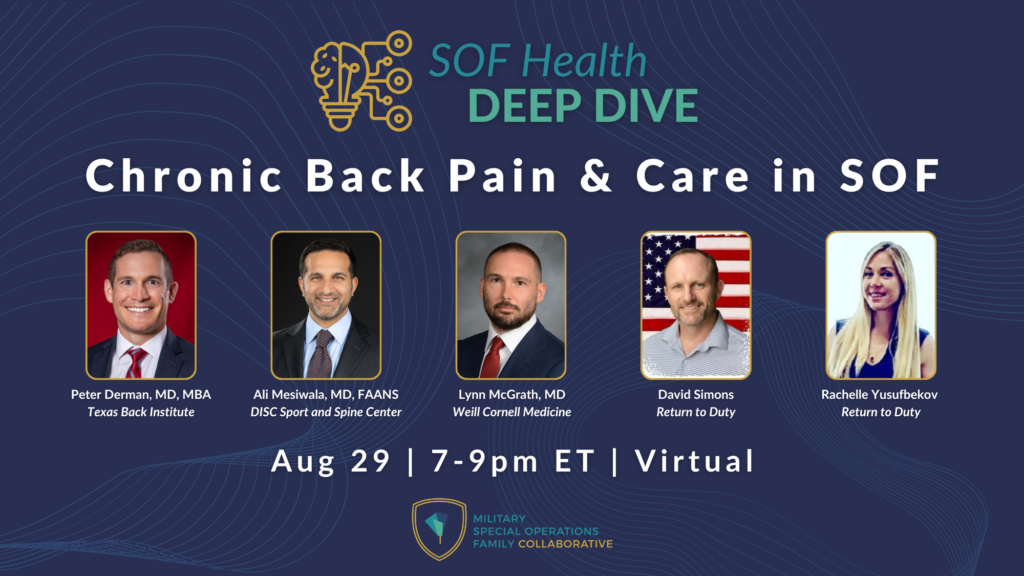 Chronic Back Pain in SOF – A Deep Dive Event
On August 29th, 2023, MSOFC was proud to host David Simons and Rachelle Yusufbekov from Return to Duty (link) and neurosurgeons Dr. Peter Derman (link), Dr. Ali Mesiwala (link), and Dr. Lynn McGrath (link) for a virtual SOF Health Deep Dive event exploring chronic back pain and care in special ops. The evening kicked off with a discussion on how Return to Duty helps customize care for special operators by serving as a bridge to expert opinions and care options, and by assisting SOF in advocating for care that would best align with their needs and goals.
Please share this page widely with any special ops service members, veterans, family members, and providers in your networks to help us get the information and resources (jump to resources) to everyone who might need to know.
If you attended the live event or watched the recording, please share your feedback (here) so we can continue to improve these events in the future. Thank you!
Deep Dive Replay
In this 2-hour SOF Health Deep Dive, an expert panel of neurosurgeons and back pain experts describe how failing to identify the issue causing pain/dysfunction and delay in treatment can impact care options and outcomes. The experts suggest care should be sought when back challenges impact Activities of Daily Living (link) and noted that symptoms such as numbness, tingling, weakness, and bowel and bladder issues should never be ignored or dismissed.
The panelists described back interventions in 3 phases ranging from 1. physical therapy and noninvasive care options, 2. injections, and 3. surgical options. Surgical options were most able to improve challenges involving nerve compression, trauma, or instability. The panel also highlighted what active duty and veteran SOF should know about seeking care for back pain, including other factors that make seeking care unique for special operations members.
The MSOFC team pulled out some key takeaways by the minute to highlight questions frequently asked. You can easily jump to these spots by clicking on the timestamp in the YouTube video description.
00:00:10 Introduction by KaLea Lehman
00:07:20 Return to Duty Overview & Team Intros
00:29:00 Common Challenges Seeking Care for Back Pain in the Military
00:35:24 Getting a Second Opinion
00:48:15 "Time is Spine"
00:53:47 Numbing, Tingling, Weakness
00:55:30 When Symptoms Impact Activities of Daily Living
01:07:30 Three Phases of Back Pain Interventions
01:16:05 Ways to Improve Sleep
01:18:40 Regenerative Therapies
01:35:18 Care Options & Strategies for Managing Pain
01:44:00 Acupuncture & Turmeric Supplements
01:52:15 Chiropractic Care for Back Pain (Avoid Neck Manipulation)
01:58:45 Wrap-Up
MSOFC is thankful for our partners at Return To Duty and their commitment to improving the landscape of back pain and care in the special operations community. Check out the links below to learn more about our panel of experts. If you missed our event, you can watch the replay here (link).
Expert Speakers on Chronic Back Pain
David Simons and Rachelle Yusufbekov of Return to Duty led the deep dive conversation. Return to Duty (link) is a nonprofit dedicated to improving the landscape of care around back pain and treatment. David and Rachelle assembled a panel of experts who shared the most up-to-date information on chronic back pain and care.

Dr. Peter Derman (link) is a minimally invasive and endoscopic spine surgeon at Texas Back Institute. He graduated with honors from Stanford University after completing a Bachelor of Science in Biological Sciences, and received his medical degree from the Perelman School of Medicine. Dr. Derman spends his time helping patients, conducting medical research, and exploring ways to better medicine for future generations.
Dr. Ali Mesiwala (link) is a neurosurgeon with the DISC Sports and Spine Center, and has performed the most artificial disc replacement procedures on the West Coast. His career began at Johns Hopkins University in Baltimore, where he graduated summa cum laude with a bachelor's degree in biomedical engineering, and then continued to medical school at the University of California, San Francisco. Dr. Mesiwalal helps patients understand the often-complex problems that may be key to restoring function and improving quality of life.
Dr. Lynn McGrath (link) is a neurosurgeon specializing in minimally invasive and complex spine surgery at Weill Cornell Medicine. He's internationally renowned as an innovator working to develop diagnostic tools using artificial intelligence and is committed to utilizing his wide range of capabilities to tailor an approach uniquely suited to each patient.
Resources
This Deep Dive is a follow-on event from our July SOF Team Room (link). You can view an archive of all SOF Team Room and SOF Health Deep Dive virtual events here (link).
Scroll To Top
Skip to content