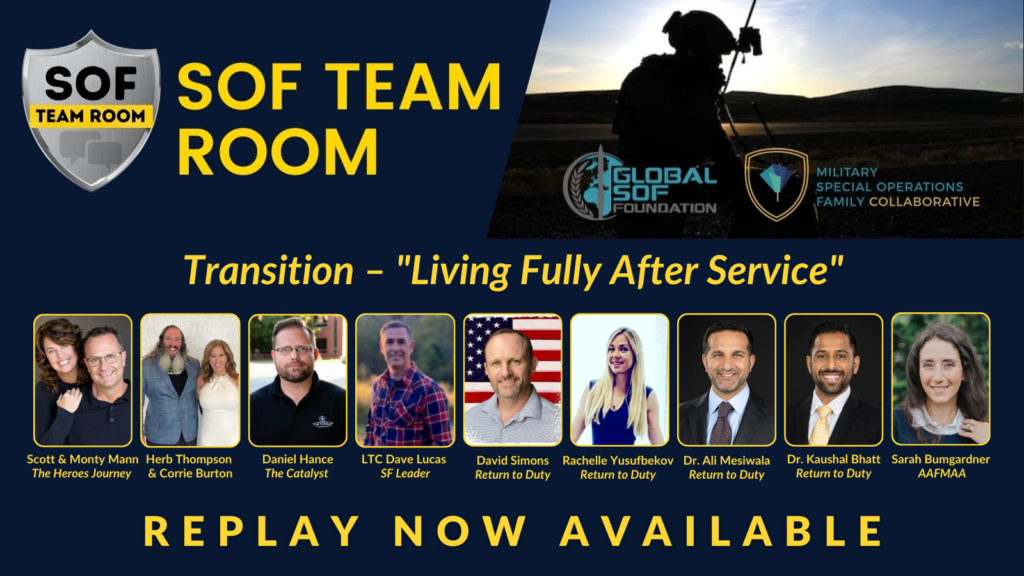 A Candid SOF Team Room Community Conversation on Military Transition
The replay is now available for the SOF Team Room virtual community conversation on military transition that took place on July 13th, 2023. Thank you so much to all of the incredible speakers and experts who took the time to share their wisdom with us! If you attended the event, please give us your feedback here (link) to help make future events even better – we truly do read and implement your feedback.
Watch the replay, and then check out at the accompanying resources for action linked below (link).
Keynote Panel on Military Transition
Scott Mann & Monty Mann co-founded The Heroes Journey, a 501(c)3 non-profit organization dedicated to building communities around human connection, healing, and storytelling. Scott also wrote and acts in the play Last Out: Elegy of a Green Beret, with Monty serving as the Executive Producer.
Herb Thompson is a retired Special Forces Team Sergeant and award-winning author of The Transition Mission: A Green Beret's approach to transition from service. Corrie Burton is a former military spouse who worked in the military community for many years to lend professional insights to transitioning service members and spouses. As a couple, Corrie and Herb often enjoy pairing up to share raw insights about their consistently intentional efforts to be a unified team to face challenges that arise in their daily lives beyond the military.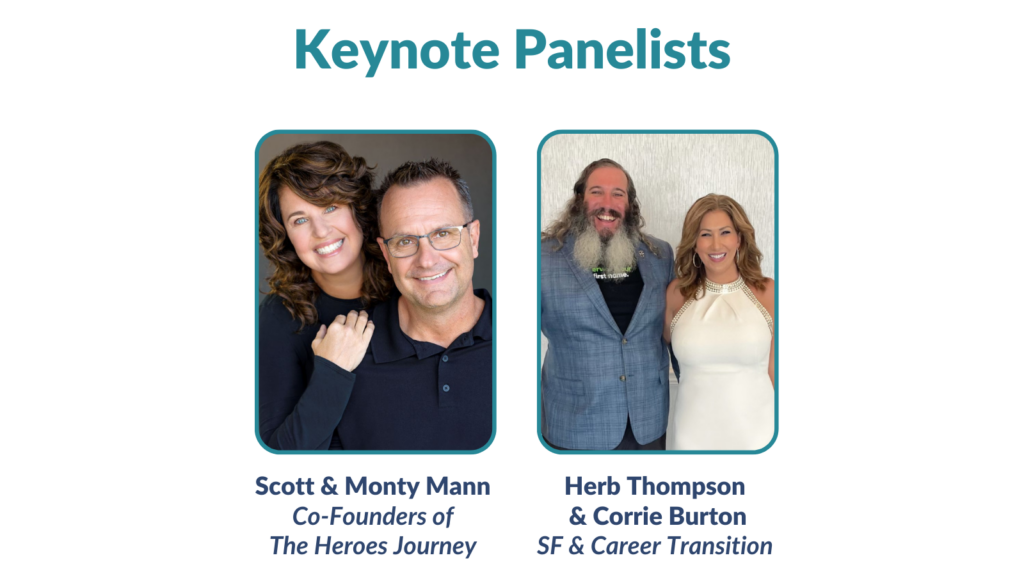 Health Sprint Conversations
After the Keynote Panel discussion, we heard from the following experts on relevant transition topics: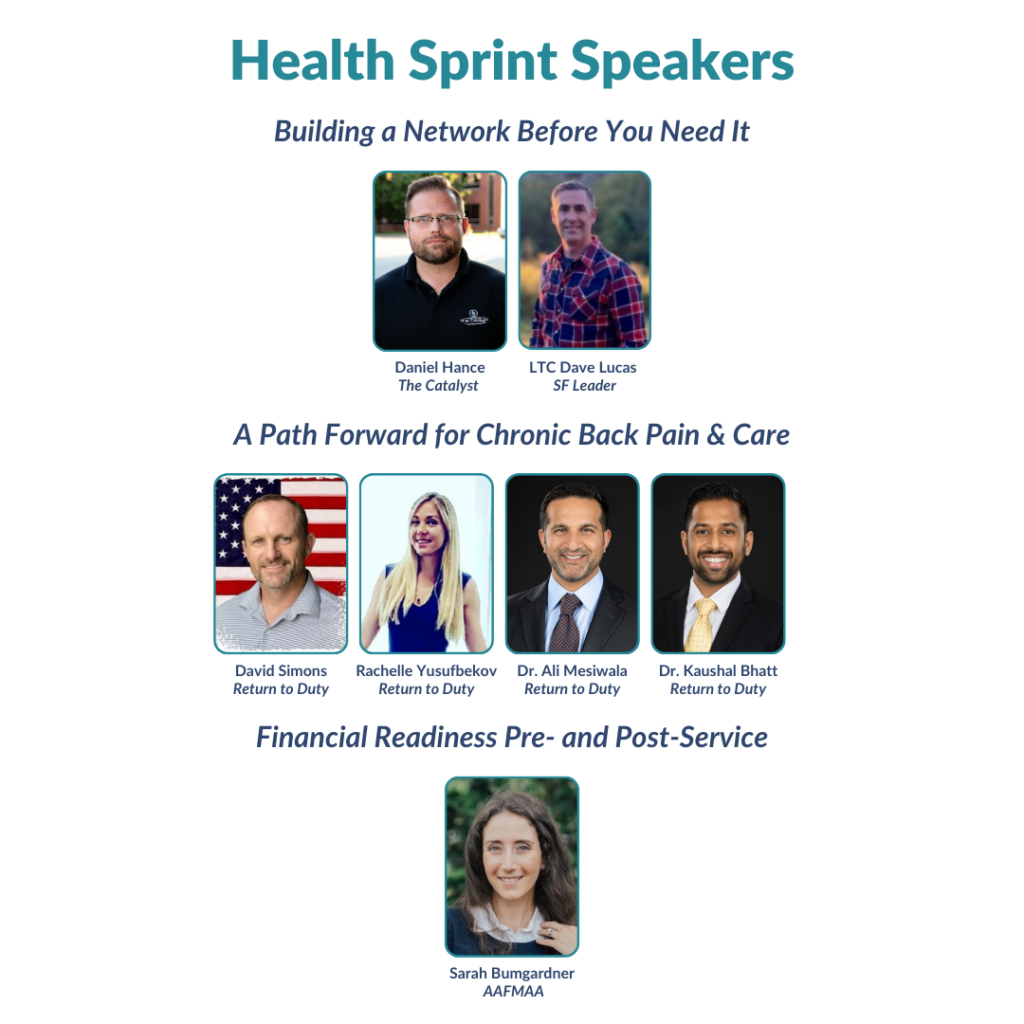 SOF Health Deep Dive on Chronic Back Pain & Care in SOF
Following each Team Room, MSOFC always hosts a SOF Health Deep Dive on an important medical-related issue in SOF. We've covered a lot of hot topics in the past, but the next Deep Dive happening on August 29th, 2023, may take on the one health issue that no special operator escapes – Chronic Back Pain & Care. Please register and submit any questions (link) you might have for our expert panel. Along with our partners at Return to Duty, the expert panel will answer your questions and explain what you need to know.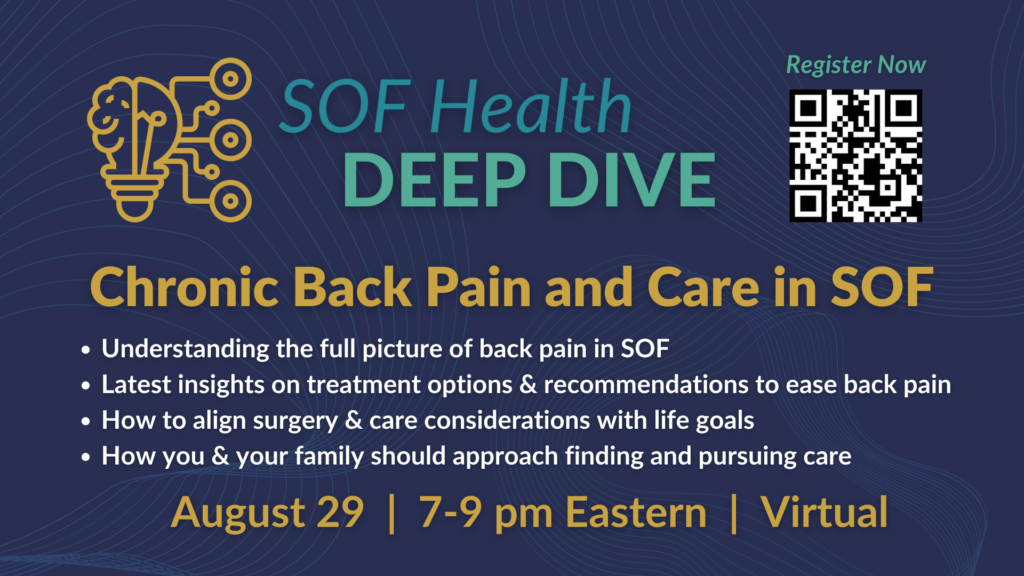 Resources for Action
AAFMAA's Learning Hub: The Learning Hub provides military families with military life insurance, personal finance, financial planning, government benefits and beneficiary information.
The Heroes Journey: A 501(c)3 non-profit organization dedicated to building communities around human connection, healing, and storytelling.
Tour Calendar and Tickets for "Last Out: Elegy of a Green Beret" Presented by the Gary Sinise Foundation.
The Catalyst: A holistic transition program that combines civilian recruiting with in-class undergraduate and graduate education, mentoring, networking, and on-the-job shadowing to assist in the military-to-civilian transition.
Check out our archive of past SOF Team Room and SOF Health Deep Dive recordings.
Scroll To Top
Skip to content