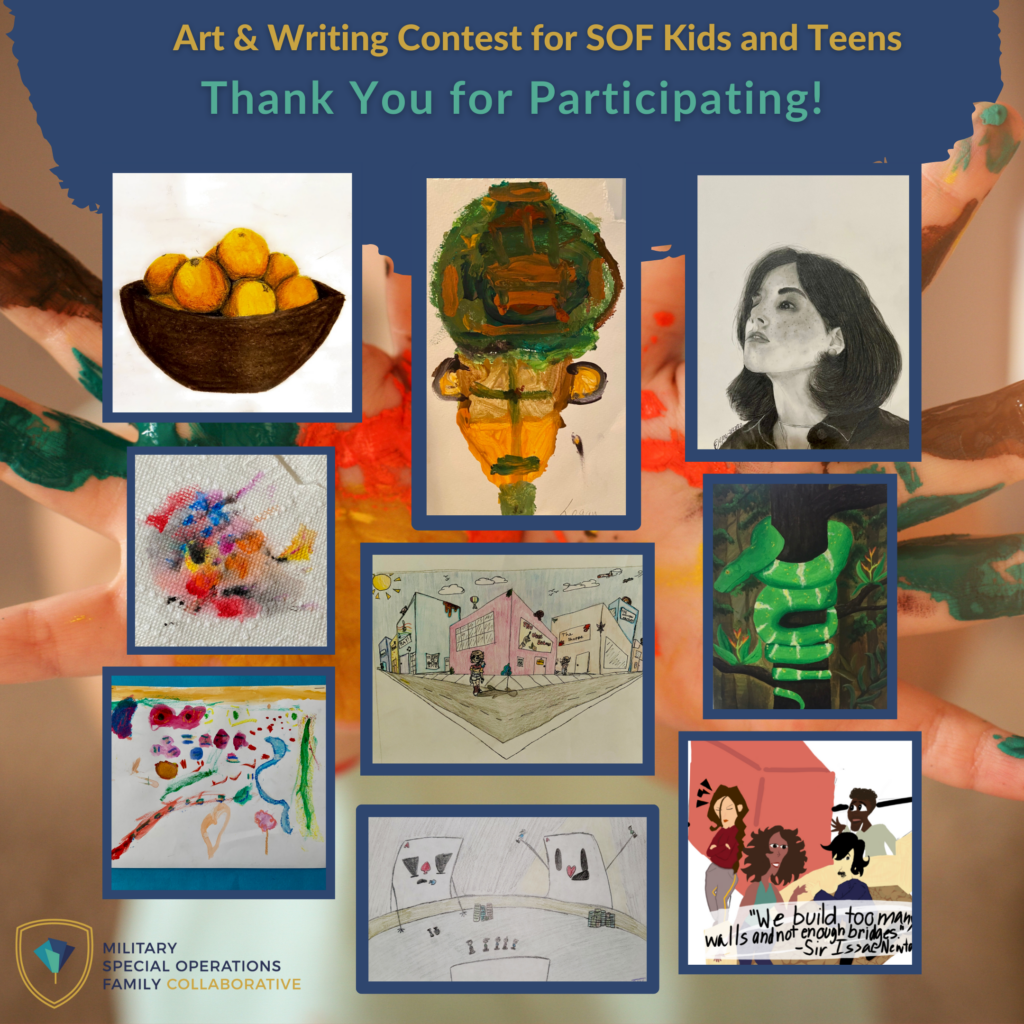 Art & Writing Contest for SOF Kids and Teens – Winners & Honorable Mentions!
Judging has concluded and we are thrilled to announce the winners of our Art & Writing Contest for SOF Kids in honor of Month of the Military Child. SOF are the US premier war-fighting community… But what do the eyes of a child see? Thank you to all SOF youth who participated in the contest. We encourage you to continue your creative pursuits!
Winner – Art, Ages 2-9:
Logan, "The Kind One"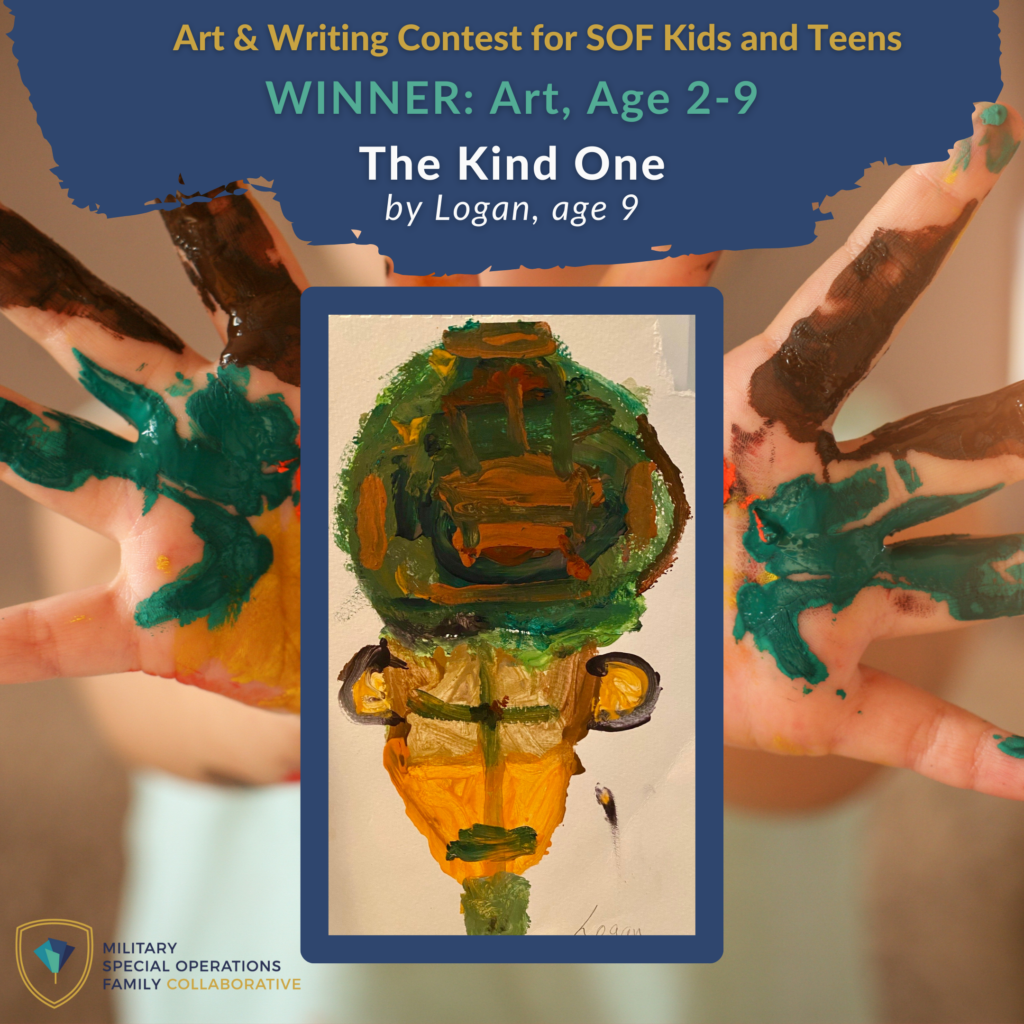 Winner – Art, ages 10-17:
Eloise, "Anonymous Portrait"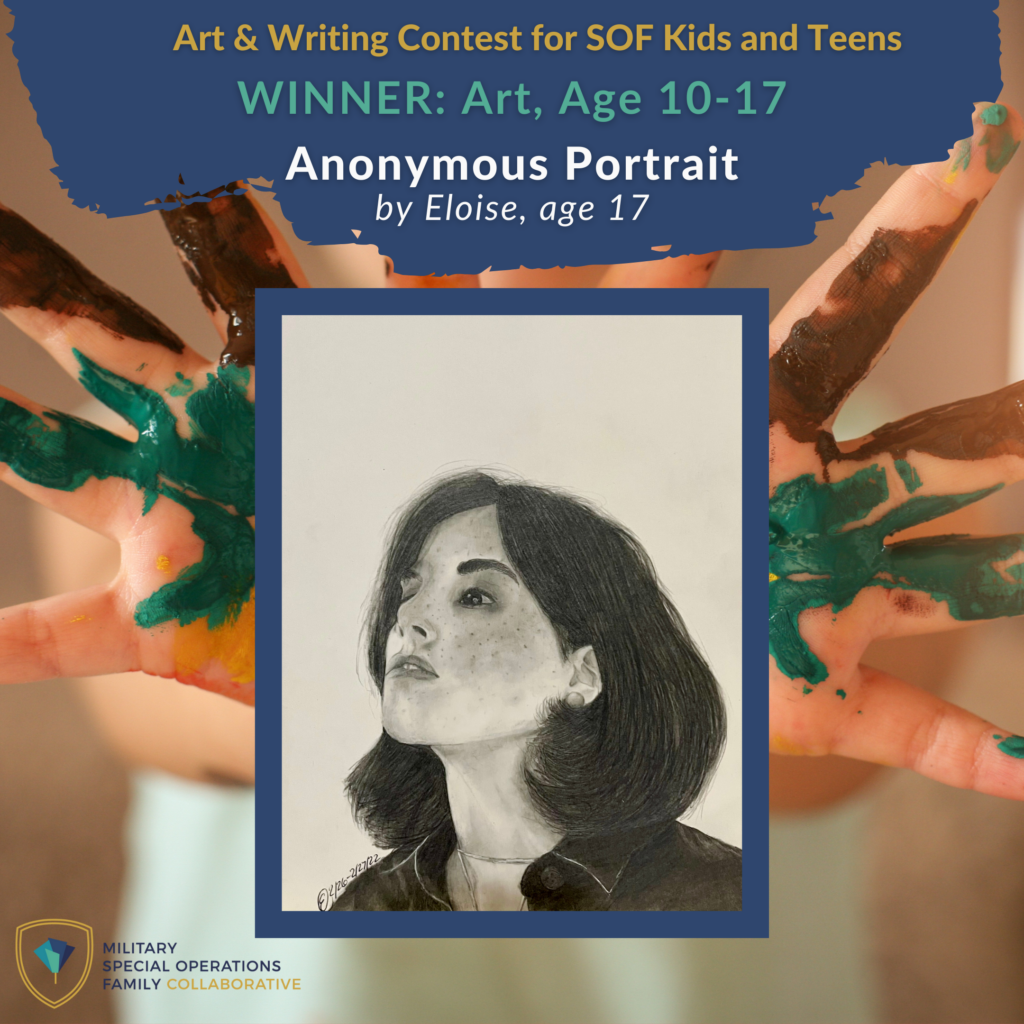 Winner – Writing, ages 2-9:
Josiah, "The Dog and the Tooth Fairy"
Chapter 1 – Fluffy and the Mean Tooth
A dog named Fluffy lost a tooth when he was five months old. It fell down and rolled away and became a mean tooth. He said, "Ha ha, you can't catch me!"
Then, he went on a boat and found his owner, Fluffy. Fluffy was so mad that his tooth had left him that he caught the tooth and tied it up in his own mouth.
Then, Fluffy went to his parents and they tied it up very well. Then, the tooth was very mean and then, a kitty came along and gave the dog a new house.
Chapter 2 – Fluffy's Hole
The tooth fairy came along and the tooth fairy couldn't get that tooth out of Fluffy because it was tied up so well. But the tooth fairy untied it and it came out. Then the tooth bit the tooth fairy's hands and ran away to her apartment. Then the tooth fairy grew her hands back and bit the tooth. The tooth died
Fluffy woke up and noticed the tooth was gone! He was so mad that he had a hole in his mouth and couldn't eat his white dog bone. He ran to the tooth fairy's apartment to find his missing tooth. When he saw that his tooth was dead, he bit the tooth fairy so that she would fill the hole in his mouth. The tooth fairy fit nicely because she was also a tooth.
Chapter 3 – Fluffy was Getting Married
Fluffy was marrying his favorite girl in the whole wide world and she was named Nuffy. Once they were married, they did all sorts of fun things, but one day all of their teeth fell out and became mean teeth. Fluffy and Nuffy said, "Oh no, not this again!" The teeth wrecked the whole city.
Fluffy remembered the tooth fairy in his mouth. She had been having a fun time enjoying his adventures with him, but the only way to fix the mean teeth was for her to come out.
Out she came. She met two dogs named Destiny and Buzzy in the city. With their help, she rounded the teeth up and threw the mean teeth in jail. All the dogs came out and had a dog party in celebration.
Fluffy and the tooth fairy hugged.
Chapter 4 – Destiny and Buzzy
Destiny and Buzzy had a fun time together. The oddest thing that happened was that the tooth fairy could no longer fit in Fluffy's mouth because she had grown. She had a new purpose, to capture the mean teeth before they could wreck cities. Destiny and Buzzy said they would help her.
Fluffy was sad to see her go, so he cried. The tooth fairy tickled him and he laughed, "Aha ha ha." She told him if he ever lost a tooth again that she would capture it and leave money under his pillow to let him know she was thinking of him.
The End
Honorable Mentions
We had so many wonderful submissions that the judges had a hard time choosing winners. These pieces earned honorable mentions from our judges.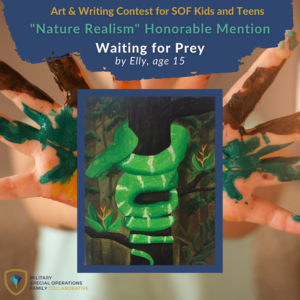 Congratulations to Elly, age 15, for earning the "Nature Realism" Honorable Mention. This slithery fella looks like he might spring right off the canvas at any moment. Thank you, Elly!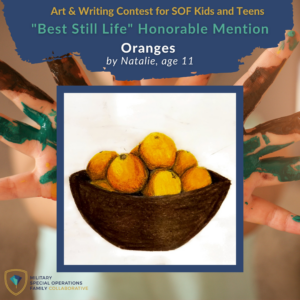 Congratulations to Natalie, age 11, for earning the "Best Still Life" Honorable Mention. The detail and shading in this piece is truly special. Thank you, Natalie!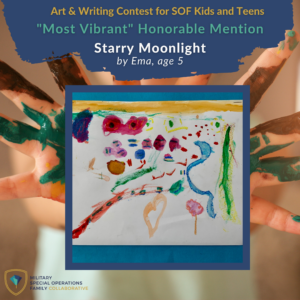 Congratulations to Ema, age 5, for earning the "Most Vibrant" Honorable Mention. The colors remind us that spring is in bloom. Thank you, Ema!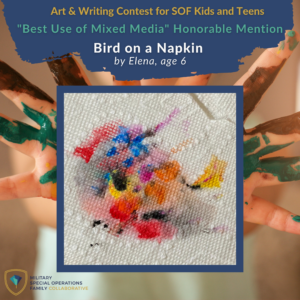 Congratulations to Elena, age 6, for earning the "Best Use of Mixed Media" Honorable Mention. Sometimes those "happy little accidents" turn into something special. Thank you, Elena!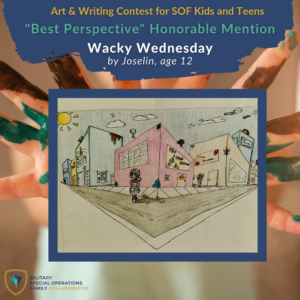 Congratulations to Joselin, age 12, for earning the "Best Perspective" Honorable Mention. What do the eyes of a SOF child see? Thank you for sharing, Joselin!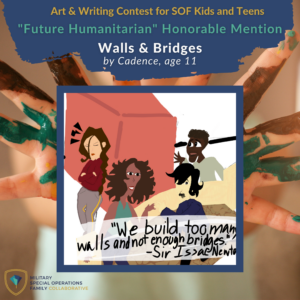 Congratulations to Cadence, age 11, for earning the "Future Humanitarian" Honorable Mention. The SOF lifestyle gives our youth a unique perspective that will make our nation a better place for all. Thank you, Cadence!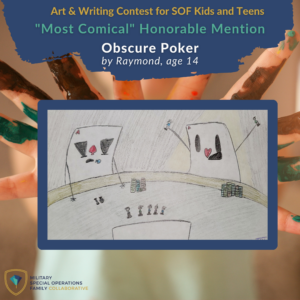 Congratulations to Raymond, age 14, for earning the "Most Comical" Honorable Mention. You brought a smile to our faces – thank you, Raymond!
Scroll To Top
Skip to content